ORIGINAL ARTICLE PUBLISHED TO: Win Can Here
Kevin David spent nearly two decades working in the wastewater industry before deciding to venture out and start something of his own.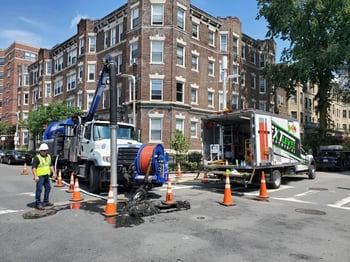 In 2018, he finally made the leap into business ownership with his wife, Alicia, and brother Paul, but the trio wanted to be sure they were equipped with the right tools to hit the ground running.
And that's exactly what they did when opening the doors of Next Level Environmental, located in the greater Boston, MA area.
The team started out by purchasing a combination truck and a CCTV truck, and prioritized investing in software that would allow them to operate most efficiently and provide customers with high-quality deliverables—leading them to WinCan.
"With other data collection software brands I had used in the past, I wasn't impressed by their features or the customer support I received," Kevin says. "Going out on our own, we wanted to make sure we picked the right software for our company."
Getting Started in the Wastewater Contracting Industry
Kevin previously spent 10 years working for a large municipal contractor learning the ins and outs of pipe cleaning, video inspection and trenchless rehab. He later moved to a different contracting company, where he helped them grow their business into a full-scale trenchless rehab operation over a 4 year period. Alicia handled the company's administrative duties and received her PACP certification so she could perform video inspections.
"This is when my wife and I felt we were ready to start something of our own with our combined knowledge of the business, from the office to field," Kevin says. "We put our life savings on the line to start Next Level Environmental."
Making the Right Investments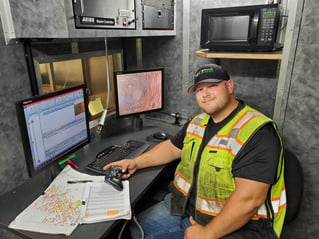 As part of their mission to seek out the right technology for their new company, Kevin worked with WinCan's eastern regional sales manager, Tim Mallon, to learn more about WinCan VX.
"Tim was very thorough in showing us all the features and benefits of the software and made us feel really comfortable to give it a shot for a year," Kevin says. "We were sold right away. It's the best software I've used in all the years I've been in this industry. The ease of use in setting up projects and databases with custom templates pending what's required for each contract is seamless."
Reliable Service and Equipment Support 
Not only was the team at Next Level Environment new to the software, they were new business owners, so having reliable support was a crucial need.
"The support team at WinCan is top notch," Kevin says. "They always go the extra mile to make sure we are using the software properly and reaping the benefits of all the tools available to us. We also love that support is available via TeamViewer, where a support tech can take control of our system to fix any issue we may have on the fly, or show us how to use a particular feature. Everyone's been great and patient."
Rapid Growth
Now, with just two years of business under their belt, the company has hired 8 employees who operate 3 video trucks and 5 combination trucks, as well as a fleet of pipe lining equipment and other tools. Next Level Environmental provides CCTV inspections, cleaning, vacuum/hydro excavation, lateral lining and spot repair services across Massachusetts and into the surrounding states.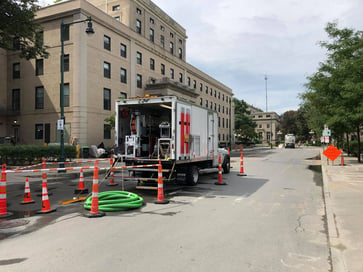 "We've grown fairly quickly over the past two years," Kevin says. "And we plan to continue growing into new sectors of trenchless rehab, but for now it's one step at a time."
Next Level Environmental serves mostly municipalities and engineering firms, but has also been subcontracted to complete cleaning and CCTV work for larger neighboring contractors. Currently, the company's biggest project is inspecting 38 miles of pipe for Boston Water and Sewer Commission.
"We do a lot of Sewer System Evaluation Survey (SSES) work where we're looking for I&I, as well as a lot of maintenance contracts for municipalities," Kevin says. "We also pride ourselves on being a 24/7 emergency operation. We are the first call for many contractors and municipalities, as they know we will mobilize immediately to support them in any situation."
Customized Deliverables
Next Level Environmental's contracts vary widely, so being able to easily customize each client's deliverable has been a standout feature of WinCan, Kevin says.
"We have so many different contracts which all require different formats for the data," he says. "I use different templates for different deliverables depending on what the customer wants. It's made my life a lot easier exporting data the way they want it and it's a much simpler process getting them that custom final deliverable than with other software I've used."
The crew plans to soon begin using WinCan Web to export and share data via the cloud.
"We're growing quickly and so there is a lot more data when we're doing thousands and thousands of feet every day with every truck," Kevin says. "It will streamline our data and deliverables and just make it easier on me."
Prioritizing Inspection Quality
The team at Next Level Environmental hopes to also become a robust trenchless rehab company over the next few years. And they've already been able to make a name for themselves by delivering thorough, high-quality work with every project.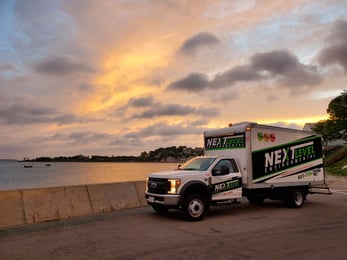 "Some of these local engineering firms aren't getting the data they're looking for because the companies they hire aren't doing the coding or doing the job properly—they're just rushing through to get the footage," he says. "I've gotten a lot of work because they know we're going to put together a quality product for them. We strive to do jobs efficiently, but also correctly. We aren't just rushing through an inspection to get numbers—we're going through a pipe and making sure it gets done right."
The collaboration and combined experience between the team in the office and crew out in the field has also contributed to the company's quick success, Kevin says.
"The contract we're on right now with Boston Water and Sewer Commission, we have some really tough areas with traffic and easements and limited access, but because of our experience it doesn't feel as daunting or stressful," he says. "I've been doing this long enough to know what needs to happen to get it done. We encounter challenges all the time but it comes down to our experience and expertise. We figure it out quickly and we get it done right."